Columbus V-900 Bluetooth GPS Data Logger (microSD Slot, Voice Recording, 66 ch. MTK) (Open Box)
New version with 66 ch MTK2 chipset
Product Description:
---
51ch. MTK chipset with enhanced positioning system technology (up to 1.5m accuracy with DGPS support)
MicroSD Slot with support up to 2GB capacity (about 25,000,000 waypoints, more than 2 years)
"Voice-Tag" function with built-in microphone allows adding live voice labels to any waypoint
Push-To-Log (POI anchor key) enables you highlighting a POI at any time
Unique SPY mode allows continuous standby logging of more than one month
Smart operating lights and prompt sounds
Auto ON/OFF function with car cable
Built-in high capacity battery for up to 24 hours of operation
User-defined speed alarm
Slim design with impact resistant polycarbonate and stainless steel
Time Album software supports Windows, Mac and Linux
Built-in Bluetooth supports SPP profile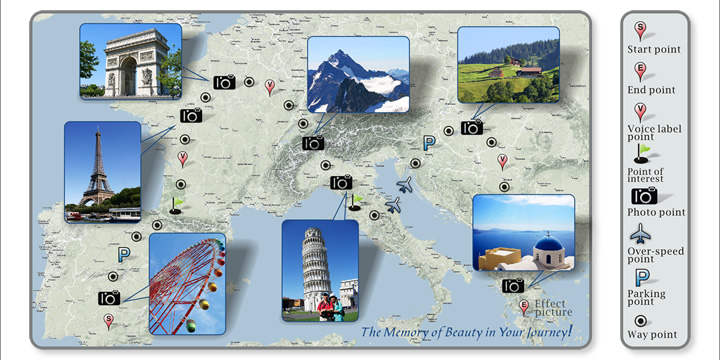 GPS Specification:
---
Chipset: 66ch. MTK2 with WAAS/EGNOS/MSAS support
TTFF (Hot/Warm/Cold): 1/38/42 sec.
Non DGPS Accuracy: 3m/CEP (50%); 5m/CEP (95%)
DGPS Accuracy (w/ EPS technology): 1.5m/CEP (30-50%); 2.5m/CEP (95%)
Altitude Limit: 18,000m (60.000 ft)
Velocity Limit: 515m (1,000 knots)
Protocol: NMEA V3.01
Baud Rate: 38,400
Update Frequency: 1Hz
Output Format: GGA, GSA, RMC, GSV
Bluetooth: V1.1/1.2/2.0 Compliant, class 2, SPP
Standard Log Mode: Date, Time, Latitude, Longitude, Altitude, Speed, Heading, and Voice
Professional Log Mode: Date, Time, Latitude, Longitude, Altitude, Speed, Heading, Fix Mode, PDOP, HDOP, VDOP and Voice
Recording Format: CSV
Voice Record Spec: WAV, 48 kbps
Storage: microSD with support up to 2GB capacity and FAT 16 file system
Supported Platform: Windows, Mac OS, Linux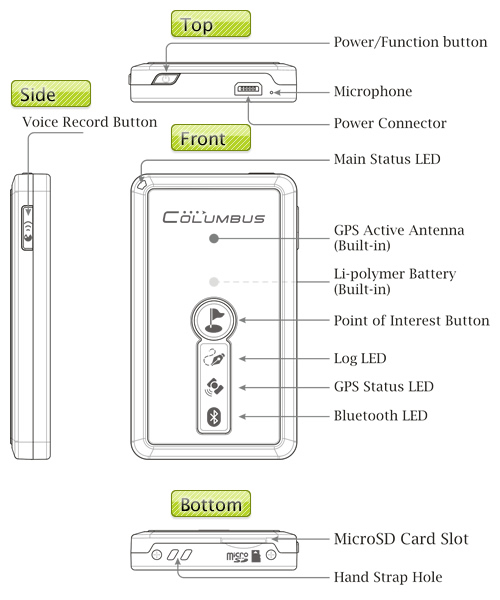 Product Content:
---
GPS Data Logger x 1
AC Charger x 1
Car Charger x 1
Auto Power-on/off Cable x 1
Carrying Case x 1
Carrying Strap x 1
miroSD Reader x 1
User's Guide
Tool CD
Warranty Card


Customers Also Purchased